Hello everyone!
As I am getting the holiday cards ready to send out, along with the family website address being on there, I figured I should update the page with what we have been up to! Since I last posted we have had a lot going on.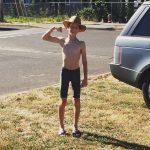 Finn and I got back from Europe on a Thurdsday, and then drove to Albany on the Friday so Finn could compete in the State Long Course Championships. He didn't do as well as we had hoped (jet-lag and the fact he hadn't been swimming in a month hindered things) but it was a great experience for him and he learned a lot.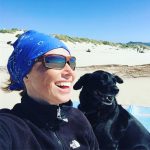 We then spent a couple of days at home buying groceries and getting the trailer ready to head to the beach for the school campout. We had lots of time with friends we hadn't seen since school got out, went on some hikes and enjoyed the fresh air. Mick and Mina came along with us too.
We came home for a couple of days again, got all of the sand out of the trailer, restocked the food and took off on a big adventure to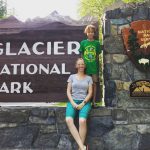 Glacier, Waterton Lakes, Banff, and Jasper National Parks with our friends Kathleen and Christine. It was a great adventure with lots of miles on the cars/trailers and so many amazing sites. We were witness to a juvenile grizzly chasing prey and swam in mountain lakes and hike from Canada to the US and took a boat back again and hikes to huts for tasty treats and lots and lots of wildfire smoke. It was great (except the smoke) and we are already making plans the K & C for another trip next summer!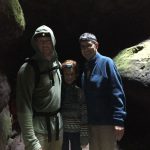 After we got home from that our good friend Nev came for a visit where Mick treated him to archery and we had a day out exploring Ape Cave in the Mt. St. Helens National Forest.
Finn did two camps this summer. One through Trackers PDX that focused on Fires, Forts and Shelters. Due to the burn ban and everything thing the NW burning down it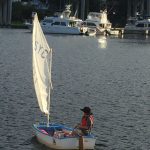 became more of a Forts and Shelters camp. They did catch crawfish one day and cooked them up for lunch! He also went to sail school and has been invited to sail with the Jr Race Team when we are in Seattle. He did great and we are looking into joining a sailing club in Portland (Sarah would like to get back into it as well).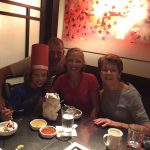 Mick was off to Russia that week and then stopped in England to visit the family and Finn had his first day of school. I enjoyed a perfectly quiet house for a couple of days where I didn't have to drive anywhere if I didn't want to (that was a welcome change). Mick brought Pat back to Portland for a visit and she helped Finn celebrate his birthday. She stayed for a week. We gave Finn tickets to see Billy Idol play (one of his favorites ever) for his birthday. Soccer had also started up so practices and games were well under way.
October brought more soccer, both swim teams starting up and swim meets. We were finally getting back into the swing of things and stayed busy shuttling Finn all over the city for his activities.
November has slowed down a bit. Soccer season is finished but we are fully in Swim and have 5 meets under the belts. I have taken over the team manager job for the school team and Mick is a USA Official for the various meets with the Stingrays as well as an occasional timer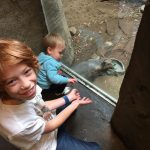 for the school meets. We are enjoying our "Tuesdays with Liam" again too and are loving that we are building relationships with him. We recently got to take him to the zoo for the first time and he loved to see all of the puppies (mountain goats), puppies (flamingos), and puppies (naked mole rats).
As we head into the holidays now (how did they get here so fast?) we want to wish everyone joy, peace and love and we hope we get to see you all soon.